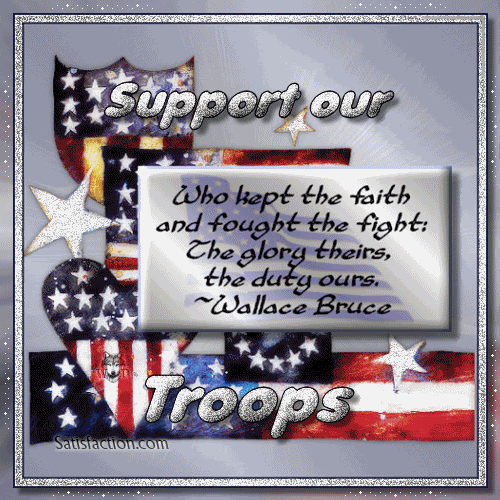 The lives of soldiers and their families is not an easy one, below find links and ways that you can help:
---
Feel like writing a note to our troops and want just the right paper or card?  The links below might be what you're looking for:
www.freepatrioticproject.com/uploads/1/Flag_Border_Stationery.pdf
www.freepatrioticproject.com/uploads/1/Patriotic_Ribbon_Half_Fold_Card.pdf
---
Search for (or register to become) a babysitter in your area: https://www.sittercity.com/register_corp_1.html?corp=dod&client=67
---
The "gratitude caign" to show people how to say thank you to the troops without speaking
http://www.gratitudecaign.org/fullmovie.php
---
The USPS effort to support our troops
http://www.usps.com/supportingourtroops/resources.htm
---
Army Reserve Ambassador Program - private citizens promoting awareness of the Army Reserve
http://www.usar.army.mil/arweb/community/ambassadors/Pages/default.aspx
---
Fisher House - providing a "home away from home" while loved ones recover from war injuries 
---
Lets Say Thanks! - send a free personalized postcard to military members overseas with the click of your mouse! 
---
DOD Website Dedicated to Supporting our Troops through community relations
http://www.ourmilitary.mil/index.aspx
---
Salute America's Heroes - a website designed to help our wounded OIF/OEF heroes rebuild their lives as they recover from their injuries
---
The American Red Cross -
---
 The Iwo Jima Survivors Support site
www.SOSIwoJima.com
---
---